Tuesday 10: 19 am.
PERSONAL STORIES - STROKE SURVIVORS & CARERS
Updated 28.1.09
Q: What is the kindest and most appropriate definition of our Carer?
A: "The wind beneath my wings " Bette Midler.
Some of the 'uninitiated' might quite well in all innocence believe that the Carers 'debility' is in direct proportion to the level of brain damage to their spouse, or partner. That couldn't be further from the truth. That is why it is desired to create a new section proportional to this one; where the Carers can themselves reveal the facts behind how they have fared in their traumatic lives turned upside down by this cruel fate.
Firstly here we feature some of the survivors of the Different Strokes Portsmouth group. "However it must not be ignored, the contribution that our Carers make not only in personal support; but also in their voluntary work on activities, events and as members of the Group's Committee. Currently, Andy's partner, Di Summers is the very hard working Group Secretary and Lorraine is the ex officio Assistant Treasurer. Not to forget the other carers/helpers. Without them all; there would be no Portsmouth Group. Well done! "
All of the survivors have moved on in their lives with some measure of success since suffering from their particular type of Stroke:

Andy Long: Served with 2 Parachute Regiment for nine years,
then five years in the Reserves and 19 years in the TA - split
between the RCT & 160 Rgt (RLC). In 1998 he became Manager
of a Landfill Site with Sita UK. He is the "members' representative" on the Group's Committee.
Carolyn Haldenby: Born and bred in Portsmouth, Carolyn

spent her working life as a hairdresser, starting straight from school at the age of 15. She retired in 1983 after 24 years of hairdressing.
In the years following discharge fron Haslar hospital, Carolyn faced further challenges; but which she has bravely overcome and returned to her home in Hilsea where she feels an independent person once more.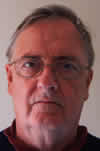 Derek Ashburner: 67 years old. Derek was born in Darlington, County Durham; way up in the North East of England. He was a Sales Director of a Construction Company until 1997. He suffered a Stroke in January last year. Over a number of years Derek lived and worked in Iran. His working knowledge of the language has proven to be very helpful in that one of our group is a native of that country. He and his wife lived in Buckinghamshire before moving further south to Fareham. Although he no longer drives his car; Derek does use a bicycle to attend our group swimming sessions at Fareham Leisure Centre just a few streets away from his new home. His celebral aptitude is a welcome asset to the group .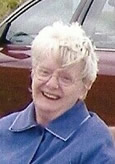 Diana Vincent Another lady born and bred in Portsmouth; Diana worked as a School Cook for 24 years before retiring. Similar to Carolyn, as a true dedicated worker. Diana's stroke has initially confined her to a wheelchair. However, this very determined lady has ignored the doubts and is striving to recover as much as possible. She is to be applauded for the dedication and effort she puts into both exercise and swimming classes. To see her up on her feet is inspiring. Diana's husband Roger, has a wicked sense of humour which is appreciated by the other survivors and carers too.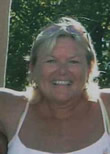 Also a true native of Portsmouth; Di worked for many years as a Sales Co-ordinator right up to becoming the next Stroke survivor in 2007. Despite her own personal challenges, Di has presented a bubbly personality which helps maintain a good atmosphere in the activities she regularly attends. Her husband Rich in her words, "Has been my rock". Their home is in the northern part of the city's outer suburbs. (Click on her picture above right, to see the original photograph taken in Australia in the year 2004)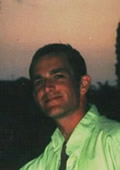 Mark Cookson: Originally from Derby; 33 year old Mark is one of our younger group members. He resides in Portsmouth with his partner and children. Mark gained qualifications as a chef prior to being tragically struck down. He had recently been attending the Horizon Centre in Cosham where he was brushing up on computer skills. That was interrupted by a DVT in his left leg. We all wish him a full recovery and best wishes for the future.